Lead2Amazon searches for goods in 6 Amazons in the world.
This page shows the output options of Lead2Amazon: BibTeX, disc track, related goods, and mobile access.
The common result of Lead2Amazon is written in Result of Amazon Search through Lead2Amazon.
---
Search in Amazon of Each Country through Lead2Amazon shows the basic usage of Lead2Amazon. This page explains each output of Lead2Amazon.

---
BibTeX is a tool to list references in TeX. If you choose BibTeX, Lead2Amazon produces BibTeX format information about books.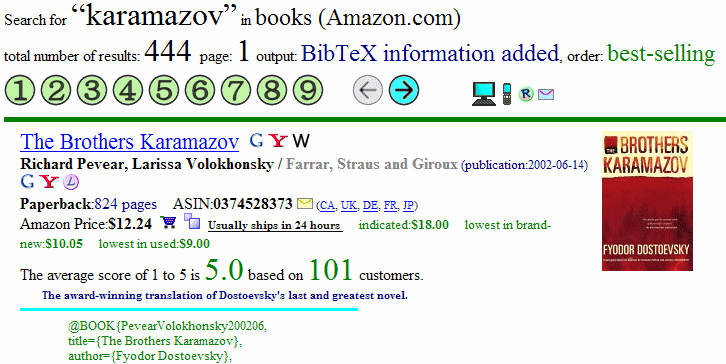 You can get BibTeX information by copy. Paste the script to bib file or BibTeX source in JabRef.
Roughly speaking, TeX is a kind of word processor like Microsoft Word. TeX is often used in academic writing. It's downloadable from Web such as TeX Users Group at no cost. Though TeX is more difficult to operate than Microsoft Word, the finished PDF is neat and organized. For example, Learn fallacy of wage differentials with cohort data in 10 minutes in Theses and Reports is made by TeX.
Amazon sometimes have irregular records. Amazon and Keiji Saito don't take responsibility for the BibTeX information. You must check the output with eyes.
BibTeXkey is made by connecting author's name, publication year and month.
Lead2Amazon displays old 10-digit ISBN now. The 10-digit ISBN and ASIN are the same.
JabRef is a cost-free BibTeX manager. BibTeX Management by JabRef and Jab2HTML presents how to use JabRef and Jab2HTML Jab2HTML exports bibliography html like en_sample-Jab2HTML.html .
The element name of "timestamp" is default one of JabRef. The date conforms to Eastern Standard Time of USA.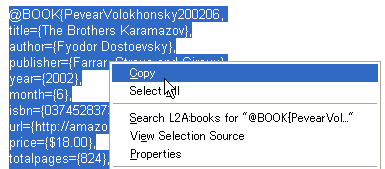 ---
If you choose disc track as option , Lead2Amazon displays track information of music disc.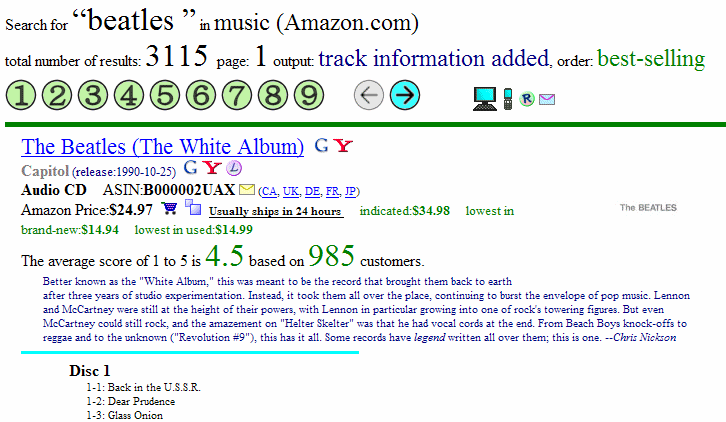 ---
If you choose related goods as option, Lead2Amazon displays related goods and links. The name of goods links to Amazon. If you click ASIN, Lead2Amazon searches the goods again by ASIN. You can search related goods iteratively.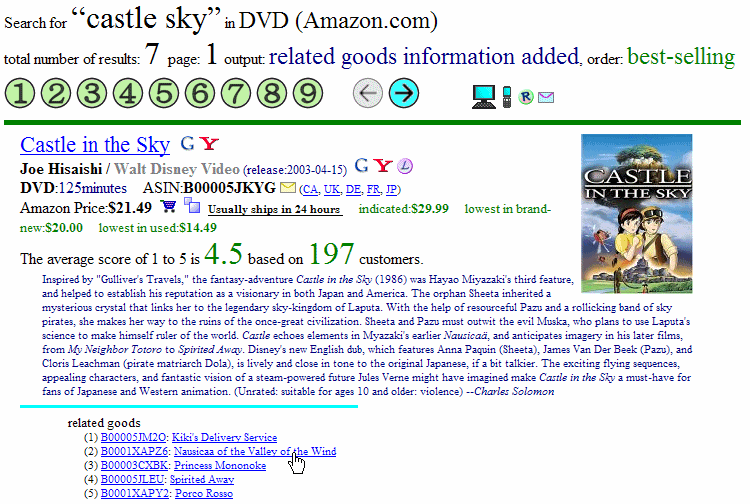 ---

If you choose mobile access as option, Lead2Amazon displays URL for mobile phone. The URL makes accessing to goods page of L2A-mobile easy. In addition, Lead2Amazon displays QR code. The QR code contains the name of goods and the URL for mobile. A camera phone equipped with the QR code reader can scan the image on screen or paper. The right image is QR code of https://lead.to/ae. This QR code enables the camera phone to access L2A-mobile directly.
Amazon Mobile is website of Amazon for mobile phone. It's different from Website for PC. In general, PC can't access Amazon Mobile. The URL is accessable only by mobile phone.
QR code is trademarked by Denso Wave, inc.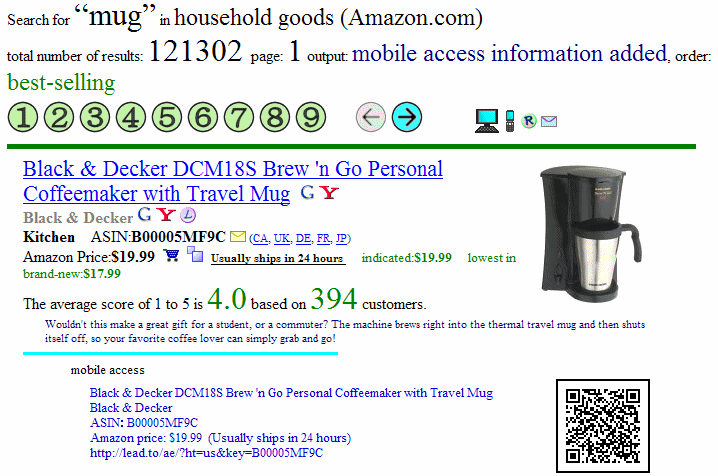 ---
The following page explains the setting, installation to the search bar, and L2A-mobile.
---